Comal Pest Control was established more than 40 years ago by owner Harvey Kalich.  In the intervening years, our company has grown due to our consistent and thorough service.  Our clients include many of the area's long-standing merchants, organizations, and families, some of whom have called on us since we opened in 1977.

You can rely on Comal Pest Control to attend to all of your pest services needs:

All employees have a minimum Bachelor of Science Degree
All employees participate in continuing education relevant to the pest control industry
All employees hold Certified Applicator licenses
We are active members of:

The National Pest Management Association
The Texas Pest Control Association
The San Antonio Pest Control Association

Our Texas Pest Control License (TPCL) number is 0618887

If you have any questions, or are interested in scheduling an appointment for one of our Certified Applicators to come to your location to do a survey and provide an estimate for our services, please feel free to call (830.625.8751), e-mail us, or fill out our convenient online question/comment form.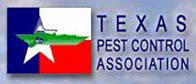 San Antonio Pest Control Association
We Accept